FEA
Finite Element Analysis
The Finite Element Method (FEM) is at the core of most predictive work at AAL. Best in class software is available to cover a broad spectrum of applications and client's needs and vision. The main simulation suite at AAL is SIMULIA with ABAQUS (Standard & Explicit solvers) and its complementary tools: FE-Safe (fatigue), Tosca (optimisation).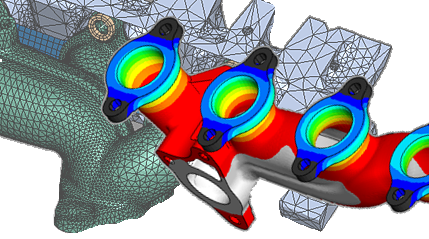 Additionally, ALTAIR's HyperWorks suite is employed for linear analysis with OptiStruct (Nastran), MotionSolve (Multi-body dynamics), AcuSolve (CFD) and HyperMesh / HyperView.
Other tools are available for specific applications: Matlab (science mathematical tool), Coustix & AlphaCell (NVH and acoustics), Python programming and ABAQUS plug-ins.